#SportDiplomacyAcademy international partnership platform in sport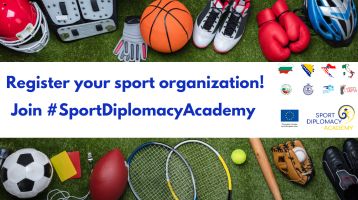 13.01.2021
#SportDiplomacyAcademy platform is open for registration of sport organizations and more that 200 sport entities are already registered. The platform aims to facilitate the international relations and cooperation in the field of sport and is with free access for sport clubs, federations and organizations. Considering the forthcoming programme period 2020-2027 and the planned on behalf of the European Union funding in the field of sport, it is a great opportunity for sport entities to be easy reachable as potential partners in international projects.


✅
Register now
➖➖➖➖➖➖➖➖➖➖➖➖➖➖➖➖
#SportDiplomacyAcademt is a pilot sport project, co-funded by the European Union that aims to ensure learning mobility of sport experts as an investment in capacity building of sport organizations with clear goal - to create well trained sport diplomats.
#SportDiplomacyAcademy results:

• 80 "diplomats in sport suits" /20 per country/, focused on delivering EU integration in the countries of WB area;
• Local dissemination events (400 pax) - snowfall effect of the acquired skills and knowledge;
• Platform for WB sport development https://www.eusportdiplomacy.info/- practical tool for resources and EU sport values with accent on Sport diplomacy and GoodGovernanceSport. Sport organizations from all over Europe are invited to join the platform and find easily their new partners in sport.
Full project information:
Here