UPLIFTING ONLINE MODULE OF #SPORTDIPLOMACYACADEMY HAS BEEN COMPLETED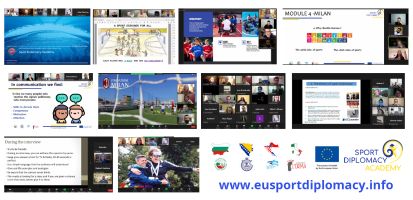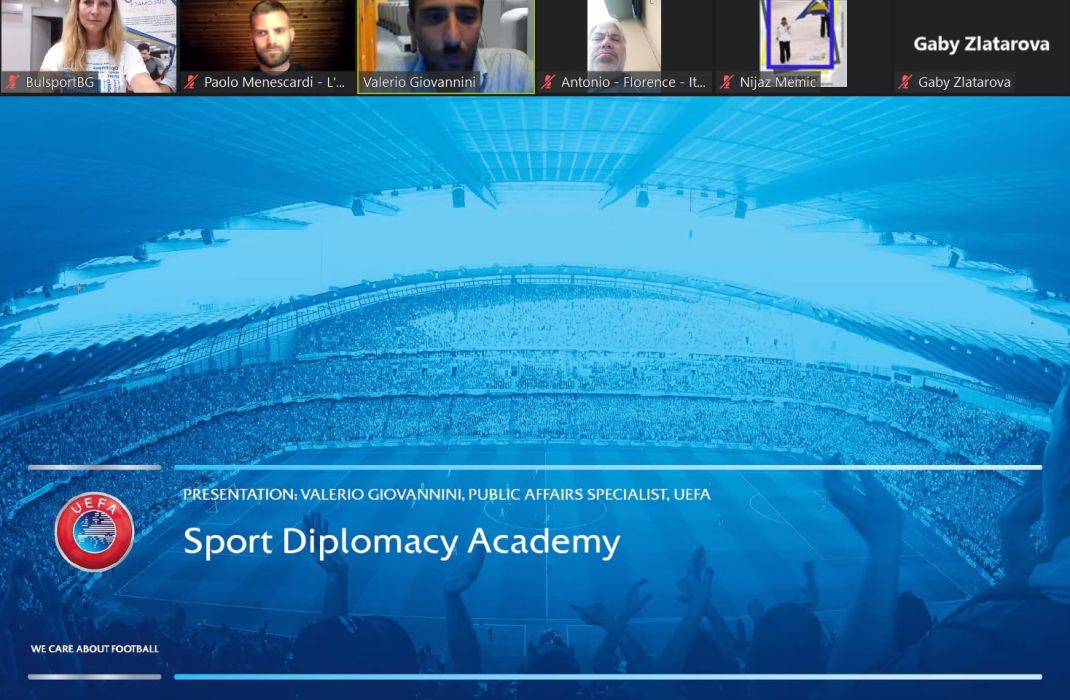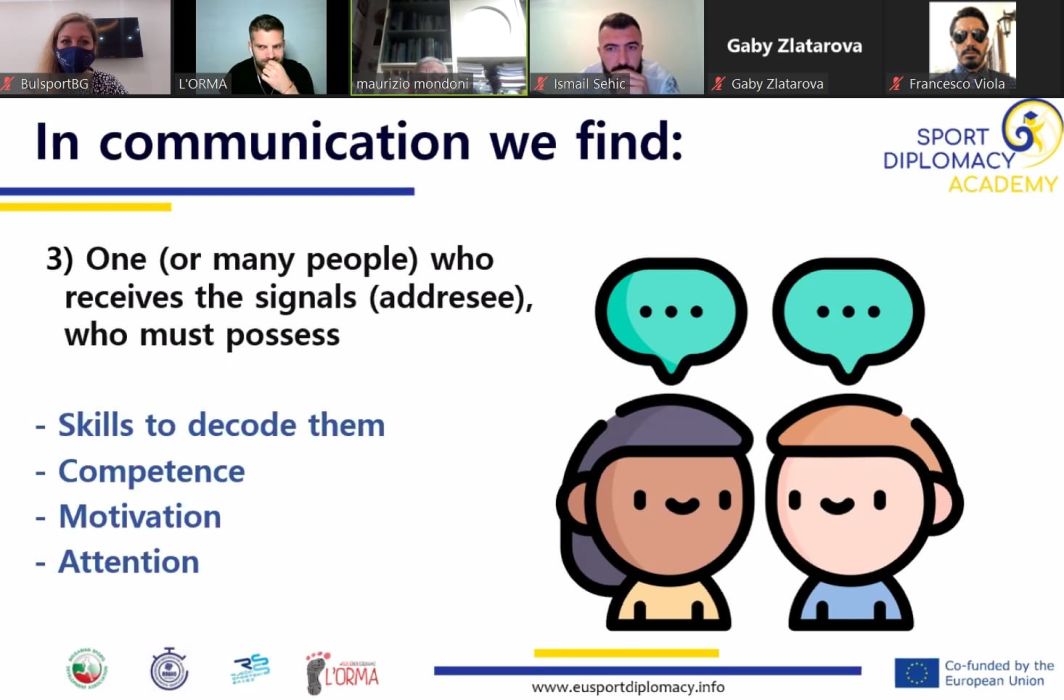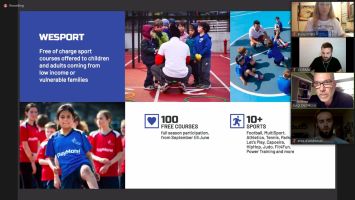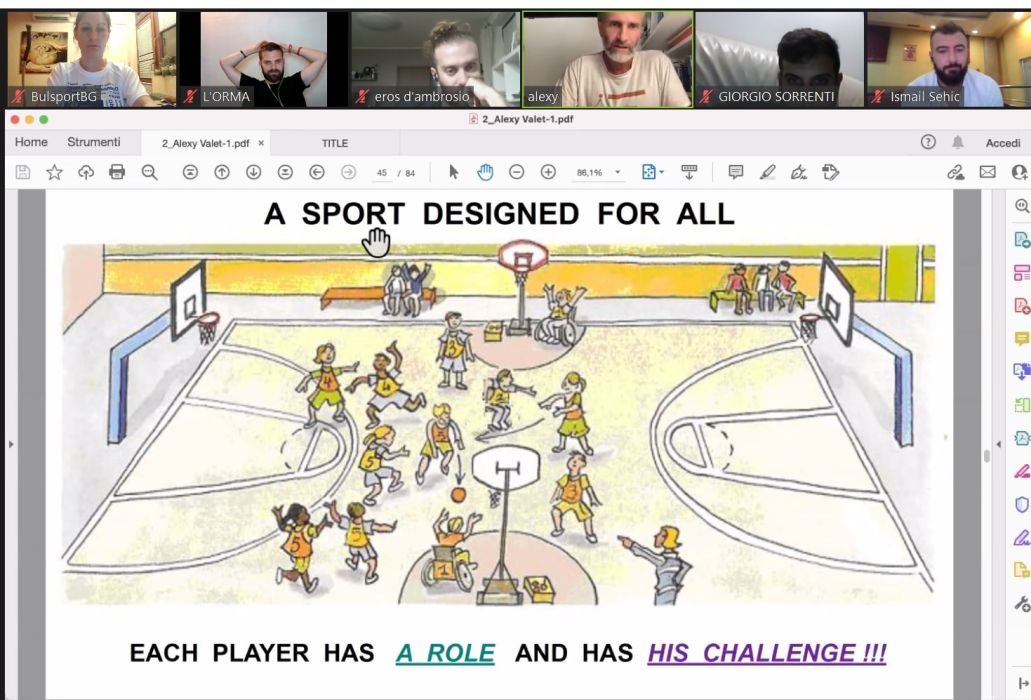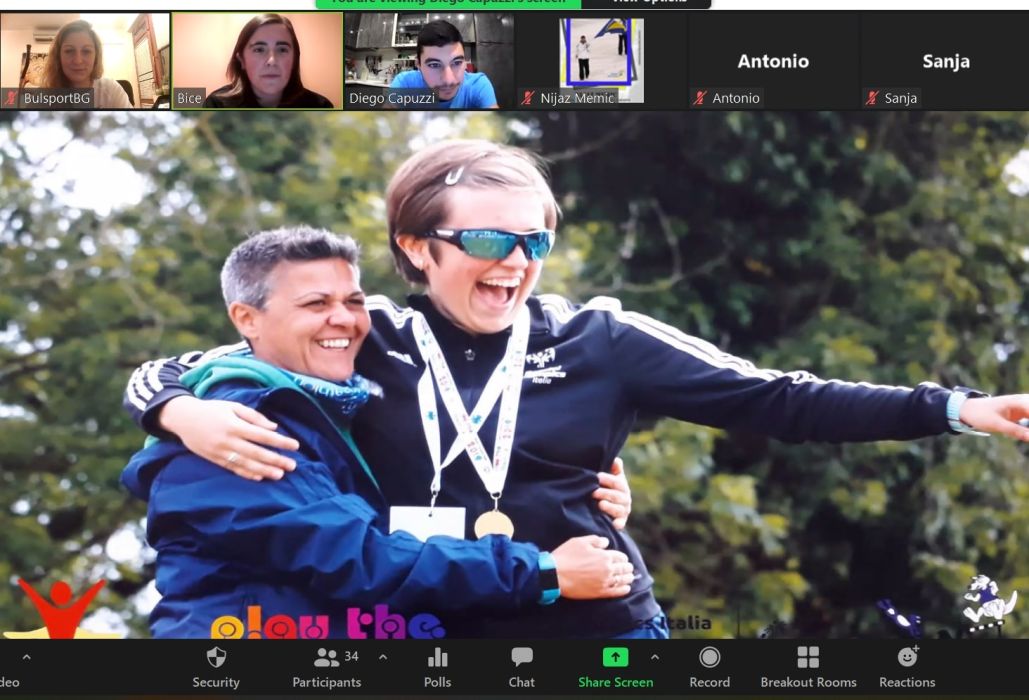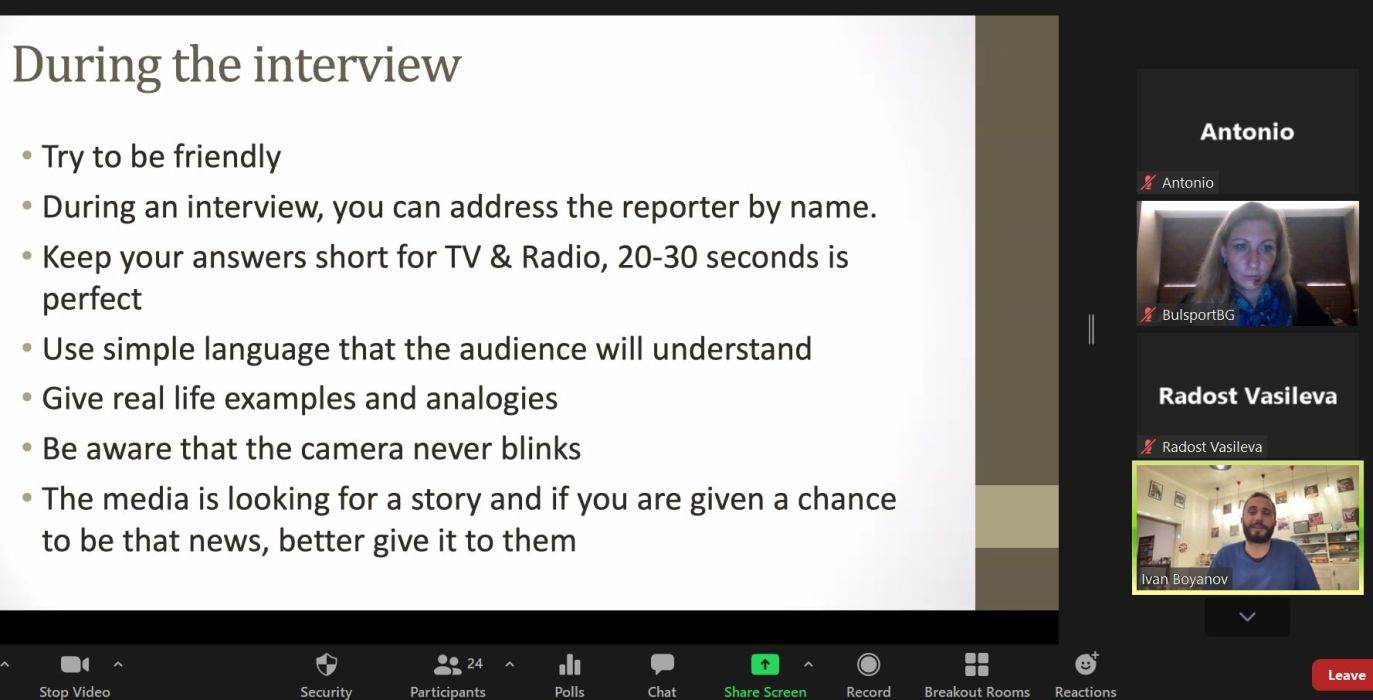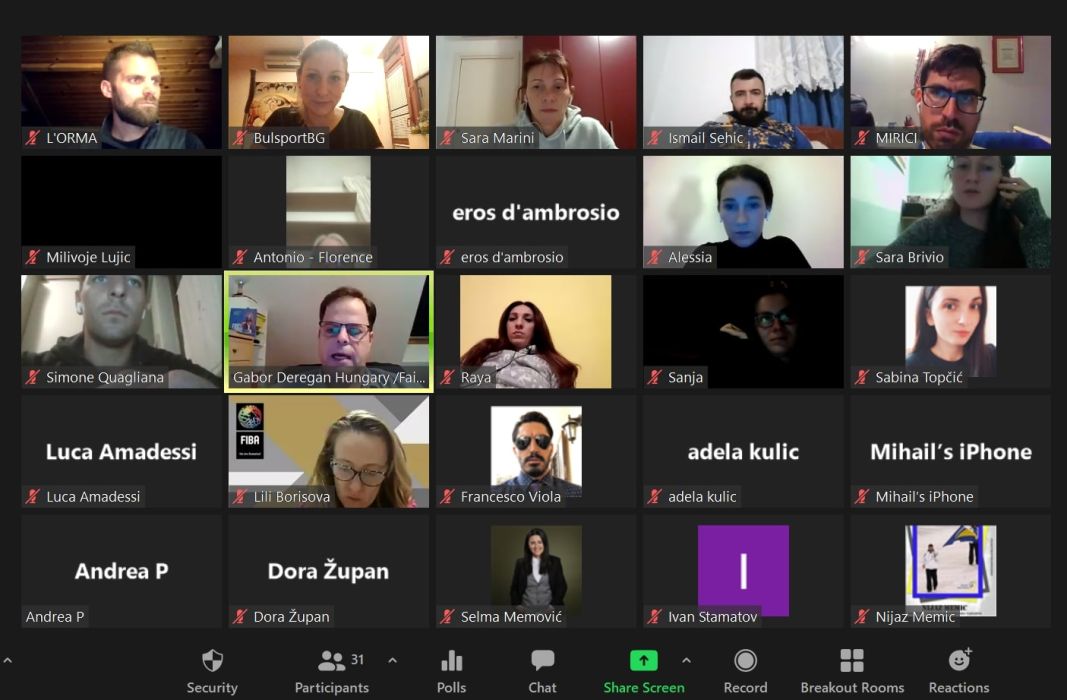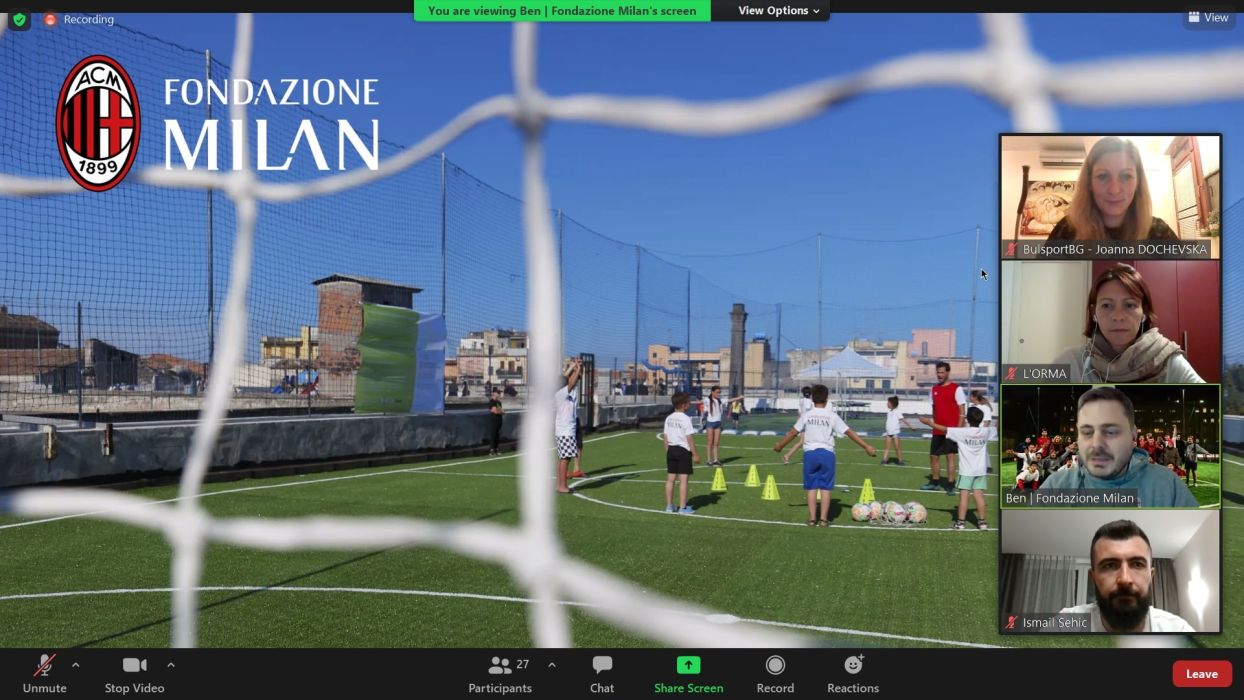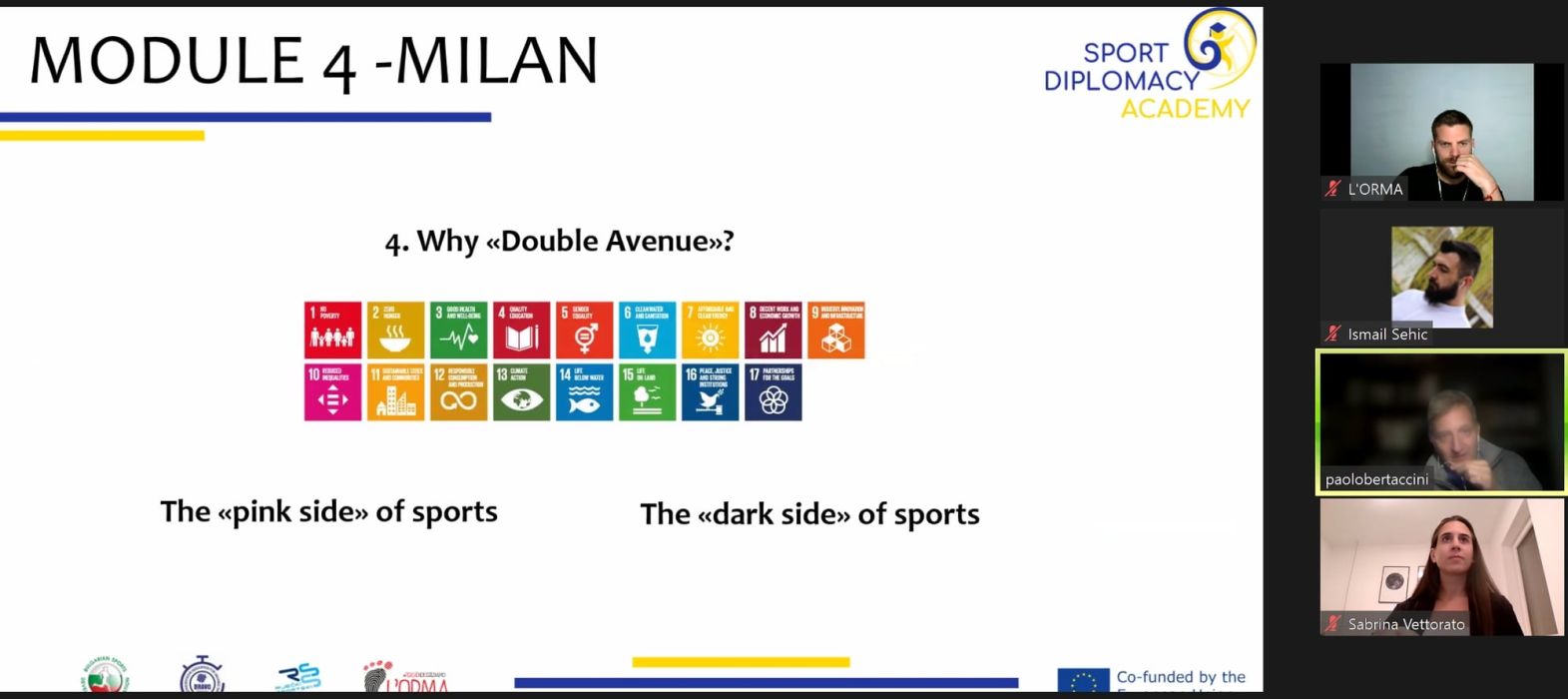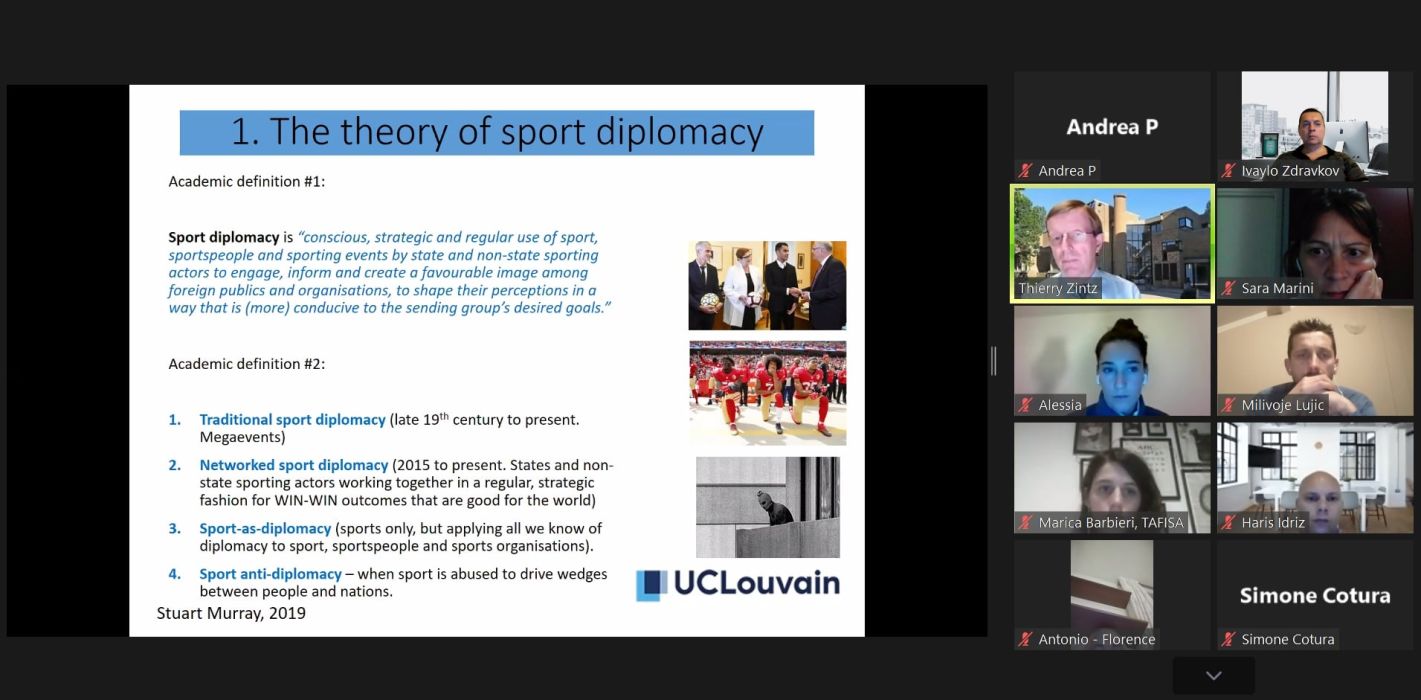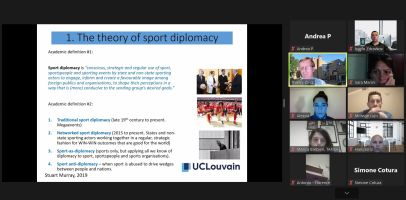 25.11.2021
In the period 15th of September - 21th of November, 2021, the online module of the Sports Diplomacy Academy took place. The online lectures were delivered with various speakers and experts in the field of media, sport for development, social entrepreneurship in sport, policy development and more. The module was originally planned to be implemented in Milan, Italy.


The fourth module of the Sport Diplomacy Academy included the following speakers and topics:
• Access to public funds for sports stakeholders, EU Regulatory matters that have an impact on sports and institutional relations - Valerio Giovannini: Public Affairs Specialist, Executive Office/ National Governance & Global Institutions of the Union of European Football Associations (UEFA).
• Inclusive design of sport with the concrete example of Baskin (a new sport invented in Cremona in 2003 which objective is to create an activity literally for everyone) - Alexy Valet: Consultant in Training Processes and Project Design (Sport, education, inclusion & innovation).
• Social entrepreneurship in sport in action through the sustainable model of Play More (social enterprise, based in Milan) - Luigi de Micco: co-founder of the organization presented the long path to create meaning through sport, ensuring that participation of everyone is granted, aiming to reach sport, wellbeing and integration in local community.
• How to make #SportDiplomacy more concrete and tangible? Paolo Bertaccini: the founder of "Sport4Impact" FORUM, highlighted the evidence that "sport is not good for itself: it depends on people and how they use make of it". Ronan O'Laire, representing United Nations Office on Drugs and Crime UNODC mentioned that Governments are getting involve to tackle crime in sport, developing cooperation and coordination mechanisms.
• Didactic Communication in the School and Sport Sector - Maurizio Mondoni: Professor and researcher at the Catholic University of Milan, Meritorious National Federation Coach, Meritorious National Instructor Minibasket.
• Fundraising in Sport - Benedetto di Blasi: Fundraiser at Fondazione Milan. The main insight that Mr. di Blasi shared with the diplomats in sport suits was to "show the IMPACT of what they are doing and to do it through EMOTIONS as in sport we are "selling" dreams."
• Promotion of Fair Play principles in sport - Gabor Deregan: Head of Presidential Office at "International Fair Play Committee".
• European Sport Diplomacy policy development - Prof. Thierry Zinz: Faculty of Sports Sciences of the Université catholique de Louvain, Belgium. Prof. Zinz highlighted that ''Sport Diplomacy promotes a sense of identity, belonging and unity beyond citizens" and inspired the participants to become even better ambassadors of their sport and country.
• Working with media in Sport - Ivan Boyanov: sports journalist with more than a decade of experience in the field of broadcast media industry. He included multiple practical tips&tricks on how to be prepared for different kind of media participation, how to behave during an interview, what to consider when transmitting your message to the audience.
• Working with specific target groups - Diego Capuzzi & Bice Saccò Technician and Athlete of ASD No Limits. They included multiple practical aspects of working with persons with disabilities. No Limits is an organization affiliated with Special Olympics, who have actively participated for some time in competitions, tournaments and matches organized by the Federation.

The Sport Diplomacy Academy project is a legacy of the first Bulgarian Presidency of the EU Council, which took place in the first half of 2018. The project focus on cooperation with the Western Balkans as a logical continuation of all activities carried out under the #EU2018BG Priority: Perspective of the EU and the Western Balkans connectivity, citing the Sofia Declaration and the Sofia and EU Priority Agenda for the EU and the Western Balkans. The European Union and the Western Balkans must continue to invest in efforts to strengthen cooperation and the exchange of good practices focused on democracy, security and fundamental human rights.

Project ensures the educational mobility of coaches and other staff of sport organisations (incl. volunteers) linked to professional and grassroots sport. The four mobility modules, which will be implemented in each partner country, will improve the skills and competencies of a total of 80 sports professionals, as well as their qualifications, through learning mobility. Learning mobility is planned as an investment in human capital and a contribution to the capacity building of various sport organisations with clear focus on building a network of well-trained sport diplomats.

After the implemented project mobilities, each of the partner countries will possess with at least 20 well trained "diplomats in sport suits" with great skills and knowledge in the field of sport diplomacy (policy dialogue and international relationship, campaign creation, successful communication (verbal & non-verbal), public speaking, media relationships, protocol and etiquette, EU foreign policy and values). The network that project will create (4 countries-20 people each) will focus on supporting and developing EU integration of the Western Balkans in the field of sport and will be quality provider of EU values in their local environment. For the delivery of the modules will be recruited the best EU experts in each field and non-formal educational methods are going to be used.

Project involves 4 partner countries - Bulgarian sports development association - academy coordinator and initiator, Rijeka sport association, Croatia, the Italian sport organization "L'ORMA" and BRAVO - Bosnian Youth and sport NGO). Partners have been working together for several years already, implementing different scale of projects and cooperating in different frameworks in the fields of sport, education and youth policy.

#SportDiplomacyAcademy project is co-funded by the European Union and includes also the following concrete results:
• 80 "diplomats in sport suits" /20 per country/, focused on delivering EU integration in the countries of Western Balkan area through sport;
• National, regional and local dissemination events (involving at least 400 people) - multiplying effect from the acquired skills and knowledge;
• Platform for WB sport development - practical tool for resources and EU sport values with accent on Sport diplomacy and the good governance in sport.

Learning mobility will be planned as an investment in human capital and a contribution to the capacity building of various sport organizations with clear focus on building a network of well-trained sport diplomats.
• Module 1 (Bulgaria): Sport diplomacy, EU foreign policy, EU values, Policy dialogue and international relationships;
• Module 2 (Bosnia and Herzegovina): Summary and feedback of Module 1, local practice reports, Good governance in sport;
• Module 3 (Croatia): Summary and feedback of Module 2, local practice reports, Campaign creation, Successful communication (verbal & non-verbal), Public speaking, Protocol and etiquette;
• Module 4 (Italy): Summary and feedback of Module 3, local practice reports, Working with media, Working with specific target groups, Sport diplomacy for development, How to put on practice the knowledge we got.