Sport games with BSDA during 2019 Famillathlon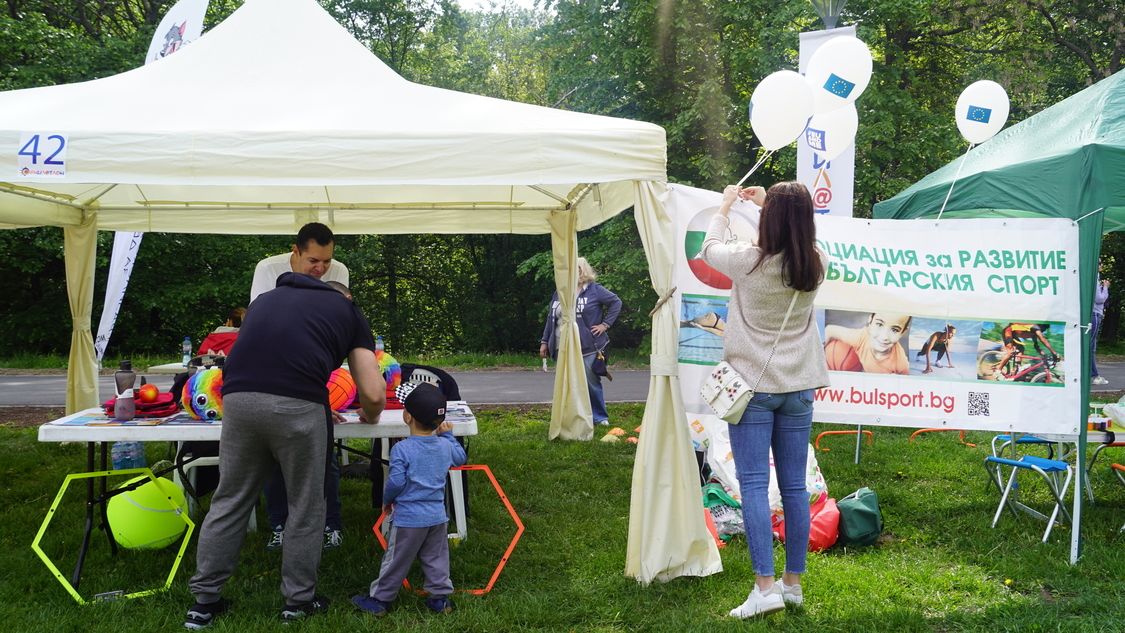 12.05.2019
On May 12, 2019, for the 11th consecutive year, Famillathlon, the largest outdoor festival dedicated to sport and entertainment, brought together hundreds of families on the Big field in South Park. It is held on the eve of International Family Day and the Bulgarian sports development association actively participated in the event, presenting the activities that it implements on various projects and together with KLASA Club organized sports entertainment for the children. The little visitors had the opportunity to learn about athletics and to experience the positive emotion of being active.


Visitors to Famillathlon 2019 got information on the activities of the Academy of youth worker project, which is a strategic partnership between Bulgaria, Poland, Spain and Macedonia. The Academy of youth worker has enrolled 12 young people aged 18-30 from each country in a program to increase their knowledge and skills in youth work and allow them to work on practical scenarios for the personal and professional development of young people with whom they communicate. The Academy, which took place until the beginning of April 2019, included the following modules: team work, group integration, leadership, conflict management, sports (physical activity) and psychomotor involvement in youth work, motivation, IT tools in youth work, methods and tools for youth work, communication with youth, time management. Practical scenarios were also developed on the following topics: legal framework for NGO creation, promotion and sponsorship, goals, vision, values, funding, staffing and employment.
Ongoing project activity is a poster competition on the theme "Youth Organization in Bulgaria and Europe, in which young people aged 15-30 can express their vision for youth organizations in Bulgaria and Europe - what they are, what they should be or what they have to make an individual or group poster for the topic.

During the event, participants were introduced to the activities of the Back2Track project, which is coordinated by the Bulgarian sports development association, which aims to analyze the differences and similarities that sports clubs have in their approach to professional and mass sports, as well as an innovative approach to involving disadvantaged children in sports and physical activity. The project aims to find a way to build practical skills and knowledge in participating organizations on how to manage mass sports programs, along with sports programs for professional athletes. In the period May 17-19, 2019, Bulgaria is going to host a children's athletics competition in which children from Croatia and Belgium will participate, and the main organizer of the event is the KLASA athletics club, which is a partner in the Back2Track project, co -funded under the Erasmus+ program.