ETS for Youth Equality training was held in Italy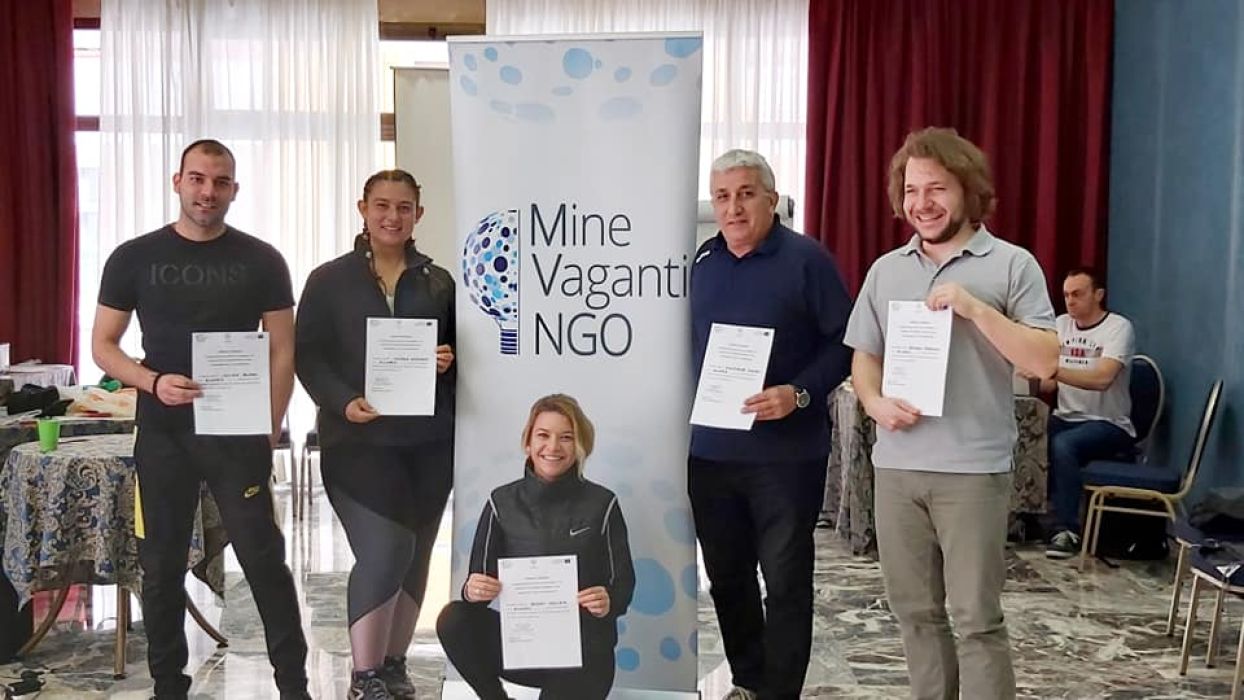 19.12.2019
In the period 12.12.2019 - 19.12.2019, ETS for Youth Equality training was held in Sassari, Sardinia, Italy, which was attended by 5 youth workers, sports coaches and trainers from Bulgaria, Italy and Ireland.

ETS for Youth Equality (EYE) is a 24-month strategic partnership in the field of youth addressing a group of young people who are affected by or deal with disability or impairment issues, aimed to create new educational opportunities and innovative approaches for the personal fulfilment of disadvantaged young people in Europe using the methodology of Education Through Sport (ETS).




Objectives:

• To implement a short-term joint staff training event for youth workers and sport trainers who deal with disabled or impaired young people in youth and sport contexts, involving 15 participants totally, 5 from each partner country;
• To release 6 Reports in multiple languages outlining the results of a research on the best practices and education methodologies of ETS involving young people with disability or impairments, available with open access;
• To create 1 ETS for Inclusion Training Format for the inclusion of disabled and impaired young people, that will be tested from each partner country as a means of assessing its effectiveness and adequacy to the target and improving it for final release;
• To produce 1 manual called "ETS for Inclusion Guide for Youth Workers and Sport Trainers" providing educational guidance for operators working with the ultimate target group;
• To develop 1 e-learning web platform complying with standards of accessibility enhancing the knowledge of ETS as an agent of learning and inclusion for disabled and impaired young people;
• To make 10 video-tutorials created by youth workers and trainers participating to the project activities, explaining the ETS methodologies.
Joint staff training:

The short-term joint staff training event was conceived as an instrument of testing the educational format developed within the project as well as laying the grounds for the delivery of the manual for operators conceived as the final product of ETS for Youth Equality project;
The participants were 15 youth workers, sports coaches and trainers, 5 from each participating organization, working with young people practicing sports and affected by disability or impairments;
The methodology used was "Education Through Sport", consisting of a purposeful educational combination between sports practice and non-formal education methods/principles. The training was a pilot activity, so the participants had the opportunity for continuous feedback on the training, analyzing methodologies and the activities, as well as making suggestions for future project products - guidance and video tutorials;
The core focus of the educational activity was to convey to participants soft skills and positive attitudes enhancing their personal development, the propensity to participate in further learning and continuous training and the ability to enhance social inclusion of disabled or impaired young people.
ETS for Youth Equality (EYE) project is co-funded by Erasmus+ Programme of the European Union.