BSDA HELD EVENTS UNDER THE EHPARP PROJECT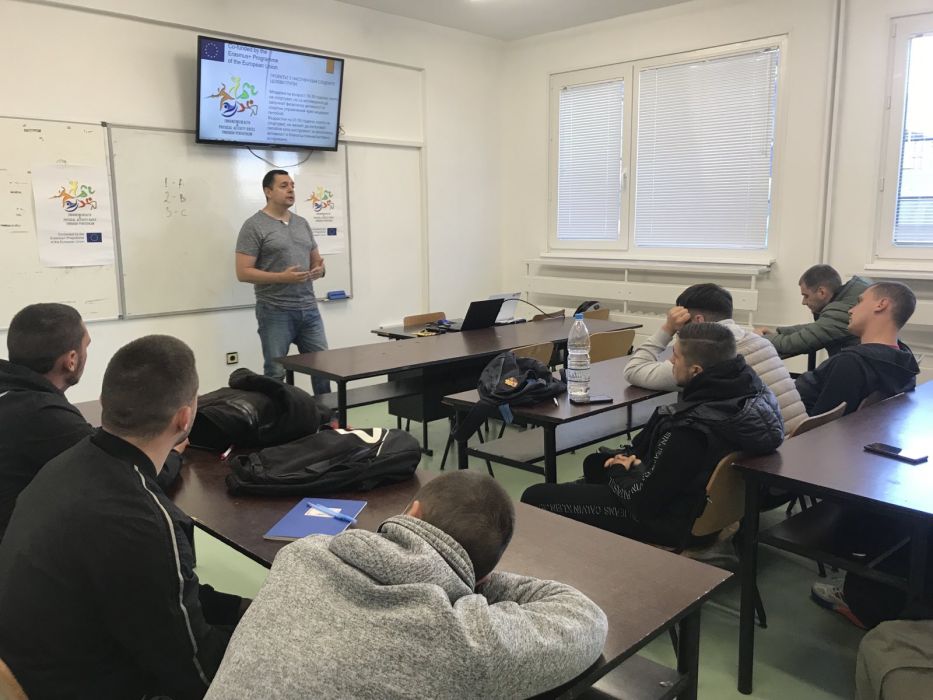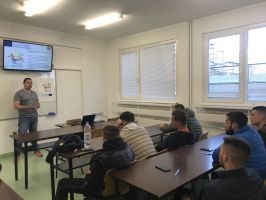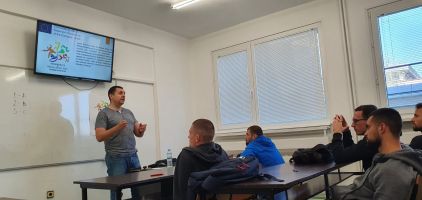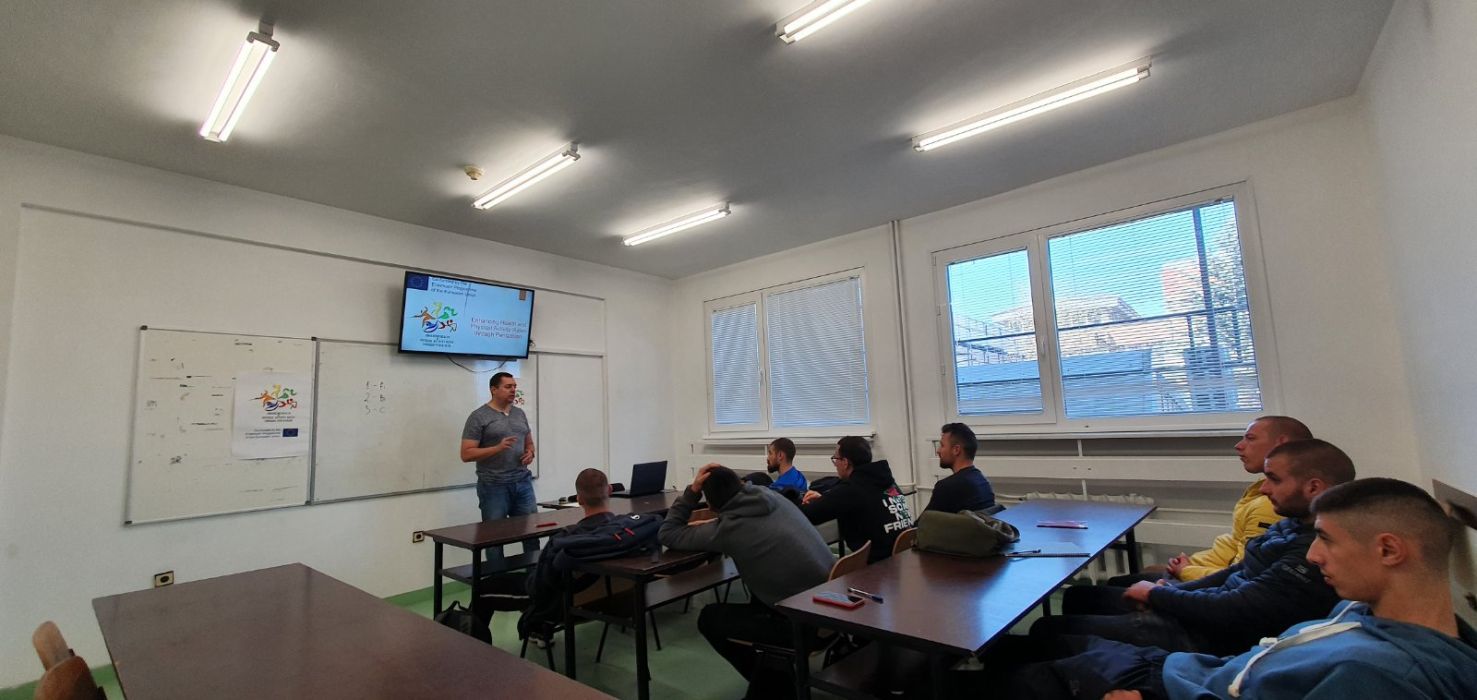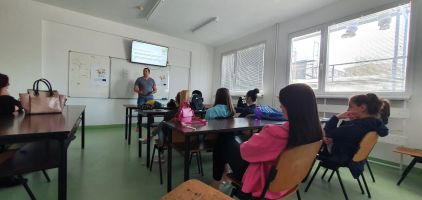 14.04.2022
In the period 13–14.04.2022, in Sofia, Bulgaria, dissemination events under the Enhancing Health and Physical Activity Rates through Pentathlon – EHPARP project were held. More than 50 coaches, sports specialists and students from the National Sports Academy "Vasil Levski" took part in them. During the events, topics such as: characteristics and profiles of athletes in modern pentathlon; the potential of grassroots sports as a means of promoting the positive effect of physical activity on health and education; how sport can be used as a means of transmitting positive values of fair play; following the rules of the game; mutual respect; solidarity; honesty; discipline.


EHPARP project aims at employing Pentathlon as a tool of promoting health-enhancing physical activity among the European youth and adult populations as well as providing dual career opportunities to Athletes in the individual disciplines forming part of Pentathlon practice who will be empowered as Coaches/Trainers in their disciplines and in comprehensive programmes of Pentathlon.

THE PROJECT IS TARGETED AT THE FOLLOWING CATEGORIES, AS BOTH DIRECT AND ULTIMATE TARGET GROUPS:
1) Young people aged 18-30 not practicing Sport and motivated to approach physical activity and Sport practice through Pentathlon;
2) Adults aged 31-55 who are not taking part in Sport and wish to approach Pentathlon as an instrument of physical activity and wellbeing/active ageing.

Eurobarometer (2014) data, regarding participation in Sport and Physical Activity, underscores that 59% of the European population never practices Sport or does it seldom, with this percentage being 19% among European young people aged 15-24. Refrain from participation in Sport, according to the Eurobarometer, knows a steep increase with age, with participation in Sport decreasing to 46% among the population aged 25-39 (the corresponding percentage among individuals aged 15-24 is 64%).
The discipline of Pentathlon presents suitable opportunities for expanding young people's participation in the positive health and psycho-social benefits of Sport. The discipline is an integral part of the Olympic movement and, most recently, has been one of the cornerstones of the Youth Olympics Games held in Buenos Aires between October 6th and 18th 2018. Considered from the perspective of its health-enhancing benefits, Pentathlon provides a multi-dimensional benefit, as a combination of different Sport specialties, allowing the development and honing of diverse and interrelated skills and abilities in a coordinated and interplaying fashion.
Enhancing awareness and active participation in grassroots Pentathlon programs calls for a cooperation between Sport organizations, where the theoretical and practical input on the specific processes and challenges of Sport, and NGOs, which can complement the dimensions of outreach, attractively and educational impact on a wide audience of targets, from the youth to adults, through the input of non-formal learning techniques.
At the same time, the empowerment of local capacities of grassroots action with young people and adults in the context of Pentathlon programmes would find itself to be greatly enhanced by capitalizing on the existing resources provided by amateur Athletes in the different disciplines characterizing Pentathlon whose empowerment as Coaches/Trainers in a multidisciplinary endeavor as Pentathlon would contribute to their development as Athletes as well as introduce them to an opportunity in the realm of Dual Careers.

THE SPECIFIC INNOVATIVE PRODUCTS DELIVERED WITHIN EHPARP PROJECT ARE:

1) Cross-country Research Report identifying the best Pentathlon Athletes profiles in partner countries and at the European level as well as defining the knowledge, skills and competences characterizing profiles of Pentathlon Coaches and Trainers compatible with the needs and profiles of athletes in the specific Sport disciplines composing Pentathlon. The Report will be an input for the creation of a Training Format for Athletes meant as an educational pathway to their development as Pentathlon Coaches and Trainers working with an audience of individuals from a transversal representation of the youth and adult population.

2) Selection of Athletes potential Pentathlon Coaches and Trainers at the level of each partner country. The selection will be targeted at Athletes in each specific Sport discipline composing Pentathlon motivated to develop a profile of Pentathlon Coach/Trainer working with as an opportunity of Dual Career.

3) A Training Format for the empowerment of Pentathlon Coaching/Training profiles in selected Athletes, developed as a result of cross-country research. The Training Format (TF) will be piloted with selected Athletes in local trainings, with the input achieved in this phase being the last step for its review and finalization based on concrete experience.

4) A series of pilot programmes (local activities) of Pentathlon practice with gender-mixed groups of young people (30 per country, of whom 15 males and 15 females) and adults (30 per country, of whom 15 males and 15 females per country) delivered by the Athletes. The local pilot programmes will be functional to the validation of the Coach/Trainer profiles linked with the Training Format. Project Multiplier Sport Events will be linked with the pilot programmes in that they will integrate a specific space wherein the participants taking part in the piloting will display their learning outcomes to an audience of local community and national/international Sport stakeholders.

5) A Manual detailing methods for the validation of Pentathlon Coaches and Trainers profiles tailored to Athletes in the single Pentathlon disciplines. The Manual will be produced as an outcome of the learning dimension of the project (local trainings and local pilot programmes) and will integrate methodological and practical instructions for the validation of Coaching/Training profiles developed in adherence with the methodology of the project (Training Format).

6) An online platform enabling Athletes in the disciplines of Pentathlon to develop comprehensive profiles of Pentathlon Coaches/Trainers through autonomous digital learning The Platform will be compounded and connected to a specific APP for the measurement of performance and progress in the programme of learning.

Enhancing Health and Physical Activity Rates through Pentathlon (EHPARP) project is co-funded under the Erasmus+ programme of the European union.