THE FIRST PICKLEBALL TOURNAMENT WAS HELD IN SOFIA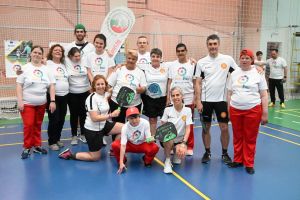 10.05.2022
On 10.05.2022 in Sofia, Bulgaria, the fourth international meeting under the Pick4All – Pickleball is 100% inclusive sport project was held, within which the first pickleball tournament in our country was organized. During the event there was a demonstration held by sports specialists from the Spanish Pickleball Federation, as well as an amateur tournament, which was attended by children and young people from Sofia schools, as well as athletes in Adapted Basketball of NSA "Vasil Levski" and users of social services in the Home for adults with mental disabilities in the town of Banya – Sonic Start. The event was organized jointly by the two Bulgarian project partners – Bulgarian sports development association and Badminton Club RacketSpeed.


Pickleball is a new, innovative sport that gives everyone a chance, regardless of their age, gender, religion, ethnicity or sexual orientation. It strives to overcome barriers and prejudices. Pickleball is a combination of several sports – tennis, badminton and table tennis, making it an ideal tool for integration and fun.

The duration of the project is 18 months, and it involves five partner organizations from four European countries – Belgium, Bulgaria, Spain and Italy.

MAIN OBJECTIVES OF THE PROJECT:
• To present and promote the sport of Pickleball in Europe;
• To encourage the practice of physical activity;
• Overcoming barriers and prejudices;
• Getting acquainted with the positive effects of physical activity;
• Pickleball to be presented as a method of integration;
• Increasing the motivation of citizens to perform physical and sports activities.

"PICK4ALL" project is co-financed under the Erasmus+ program of the European Union.