BSDA TOOK PART IN AN INTERNATIONAL CONFERENCE FOR SPORTS INNOVATIONS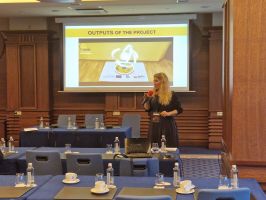 16.06.2023
On June 16, 2023, an international conference "Innovations and good European practices" was held at the Grand Hotel Sofia, organized by Association Sport Club "Comac Sport" within the framework of the "Come and Play 4.0" project, EAC-2020-0745, co-funded by the European union. "Come and Play 4.0" aims to develop and widely promote innovative forms of practicing sport and physical activity, suitable for people of different ages, through a new intergenerational sport program, using digital tools and creating mobile playgrounds.

Within the framework of the international event, good practices from various countries in Europe were presented, with special attention paid to the models from Hungary, which were presented by Rodrigo Dudas, sports coordinator of the Budapest Association for International Sports.

Within the "Sustainable sport practices in the EU" panel, the "Carbon Neutral Sports Clubs Network – C ZERO SPORTS CLUB" initiative was presented, which aims to motivate sports organizations to reduce the carbon footprints of their activities.

Bulgarian sports development association took part in the event and during the "Innovative training methods and techniques" session presented two of its current initiatives, supported by the Erasmus+ programme of the European Union: #SMILE – Sport, Motivation, Inclusion, Leadership, Engagement which promotes the sustainable inclusion of people with intellectual disabilities in sports activities at local, national and international levels and #SWIM – Swim Without Fear!, which aims to overcome hydrophobia in an innovative and a different way, namely by developing a good practice handbook that will be useful to both parents and swimming organizations.

In the last part of the international conference, good practices on "Promoting equality and inclusion in European sports" were presented, in which Roberto Volpe, MD, ASM, PhD, National research council of Italy, provided the audience with details of the implementation and results of WOMEN'S HURDLES: barriers to inclusion of women in sports activities and opportunities to increase their physical activity.