COACHING WORKSHOP WITHIN THE SEEYOU PROJECT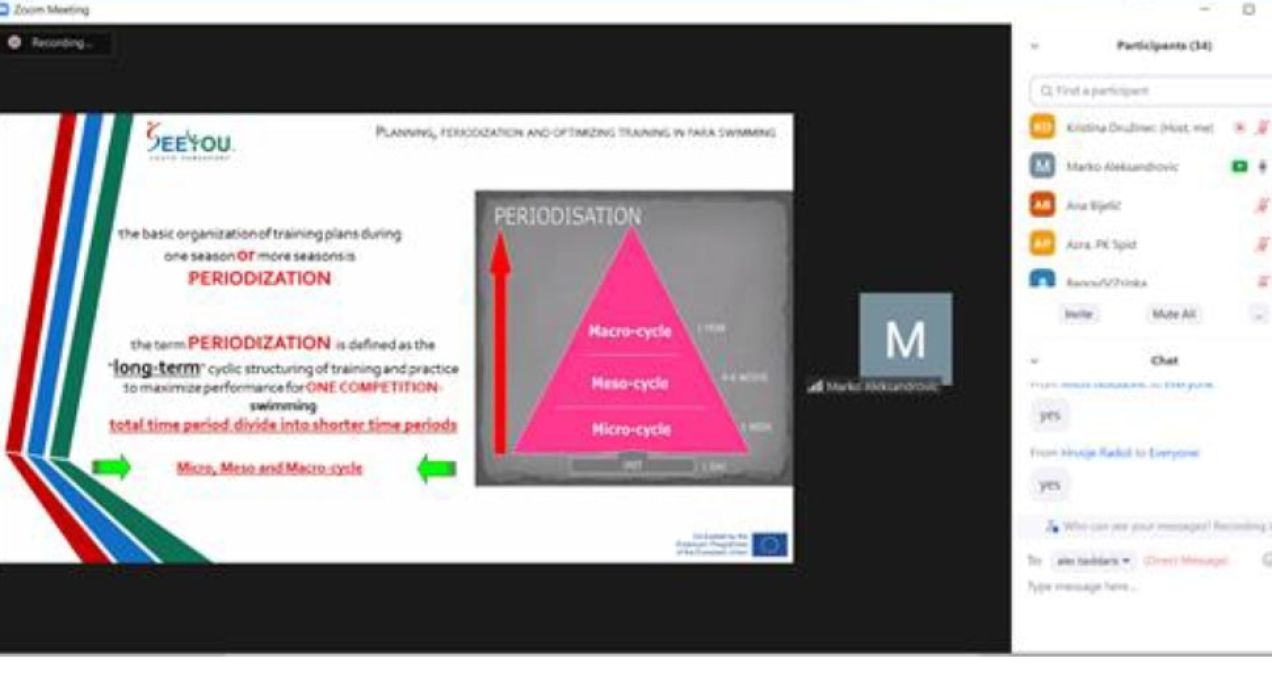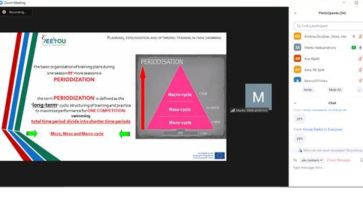 09.10.2021
Coaching workshop is the one of the main activities within the "South-East European Youth Para-Sport Exchange: SEEYou" project. The aim of the coaching workshop is to facilitate the exchange of knowledge in the field of sports for persons with disabilities (primary swimming) among the primary target assembly of sports coaches, coaches, sports instructors and sports experts. The main organizers of the workshops were para-sport organizations from Croatia (Croatian Paralympic Committee and Rijeka Sport Association for persons with disabilities), Serbia (Paralympic Committee of Serbia) and Greece (Hellenic Paralympic Committee).


The Coaching workshop was held online, via ZOOM platform, due to the difficulties caused by a global pandemic. The primary topic of Coaching workshop was ParaSwimming. Each workshop provided specialized training to sports specialists to meet the specific needs at sub-regional level. The first day of education was on October, 5th and was hosted by Greece. The representatives of Croatian Paralympic Committee and Bulgarian Sports Development Association greeted the participants and gave an introduction to SEEYou projects. After an introduction, the Sofia Ntzouvali, ParaSwimming Classifier gave an Introduction to ParaSwimming Classification System followed by Sakis Kostaris, ParaSwimming Veteran and managing director of the Hellenic Paralympic Committee, with the Introduction to ParaSwimming; What does a ParaSwimming athlete need from his coach and A holistic approach to sucessful ParaSport participation. The second day was held on 7th of October. The host for the second day was Croatia, Rijeka sports association for persons with disabilities. The lecturer of the day was Jasna Lulić Drenjak, expert in ParaSwimming with the introduction to Halliwick Concept, Sherrill Method and Standard Swimming School in Croatia. Third day was hosted by Paralympic Committee of Serbia on October, 8th. The education began with the lecturer from Greece, Paralympic Swimming Medalist and Rehabilitation Doctor, mr. Alex Taxildaris with the lecture on Para Swimming and medical considerations: What a Para swimmer should take care of during training and competition. The education proceeds with lecture from Marko Aleksandrović and Marko Đurović, PhD experts in adapted physical activity, ParaSwimming and swimming. The topics of the lecture was: From adapted aquatics to para swimming training - the paths variations, Planning, periodization and optimizing training in para swimming, Training characteristics of para swimmers and Medal prediction at Paralympics - statistics vs. reality and takeaways for coaches.

The total number of participants was 61 in three days of coach training. As for the participating countries, it is known that the participants were from Croatia, Serbia, Greece, Bosnia and Herzegovina, Bulgaria, Israel and Belgium.